I woke up today to over 1,000 views (not counting my own)! This may not sound like a lot, but I never thought anyone would read this blog so it is very exciting to me. Thank you all for reading.
Light box #2 is better than my first attempt, but it still needs work. I'm going to replace the bulbs with a different type tonight and see if that helps. Luckily, the photos I took of today's polish are color accurate on the nail!
CQ Mystical
is a very pretty purple with a pinkish tint. I really like the color, so it's a shame that the formula is horrible. It took a ridiculous amount of time to dry (read: 20+ minutes per coat) and was extremely sheer. These photos show 4 coats.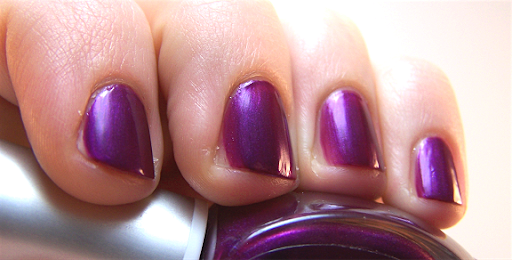 You can see how this polish drags and dents even with a crazy amount of drying time.
Mystical
was a total disappointment.
Sorry about my terrible cuticles! I'm hoping to deal with them when my husband comes home for dinner tonight.