The title of this post makes me laugh way more than it should, but I had to do it. When I swatched CQ Cranberry yesterday and saw how un-cranberry it really was, I decided to try my hand at making my own cranberry polish. This stuff is kind of a mess, but I think I like it (for the most part). The pictures show the polish in two coats with no top coat, though it could use one to even out the bumps from the glitter.

Natural light.
I put so many different polishes into this that I have no idea what they were anymore. Something happened when I mixed them all and now this stuff is THICK. It's hard to apply in thin coats because it's thick, sticky, and dries in like 15 seconds.

Natural light.
I really like the color.
The hexagonal pink glitter looks a bit stupid in it, and I wish I hadn't added it. I was going a little glitter crazy at 2am and didn't think before I poured.
The more I look at it, the more I like it, though most of it settles to the bottom of the bottle, so it would probably be easy to by-pass if needed.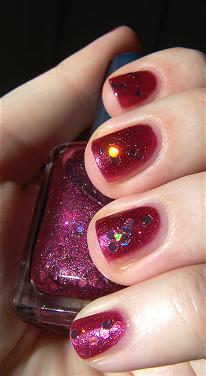 Natural light.
If I could figure out how to thin and de-sticky this stuff I would totally use it again, as long as I could find a way to either keep the hexagonal glitter in the bottle or coax more of it out. I think that stuff works best in high volumes. When it's sparse on the nail like this it can look messy and stupid, in my opinion. The glitter problems are a definite disappointment.
I'd say this franken was a color success, and a formula mess (hardy har). What do you think?