I've missed you guys! I hope you missed me, too. My nails had grown to a length they hadn't reached since long before I got married while I was on my break from blogging. The night I decided to start swatching again I got a MAJOR break. I can't stand having one super short nail, so I had to cut them all back down. The cold weather is doing a number on my hands and cuticles, but I'm trying to keep up with it the best I can. I'll have to do a day-by-day photo post to show the growth I get with my new favorite product. But that's a post for another day!
Today I'm going to show you the first green polish I've owned
and
liked,
Confetti
's
My Favorite Martian
.
All of these photos were taken in natural light.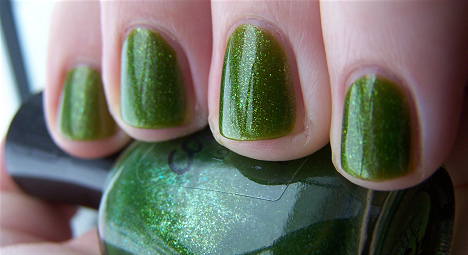 My Favorite Martian
is pretty sheer, but it dries quickly and is easily buildable. These photos show three coats. I didn't have any problems with the formula. I only own a few
Confetti
polishes and I haven't worn any for a significant amount of time, so I'm not sure about how this stuff wears. All I know is that this is a really pretty polish!