My husband went to get an oil change (the first one in almost a year...
men
...) and while he was waiting he went into a random discount store in a nearby strip mall. He gave me a call to let me know how long he'd be there, and of course I asked him to check for polish. They had a bunch of these
Revlon
polishes with coordinating top coats for $1 each. I told him to grab whatever colors looked interesting, and he came home with
Silver
,
Rcok
(which I will be posting about later), and
Galaxy
.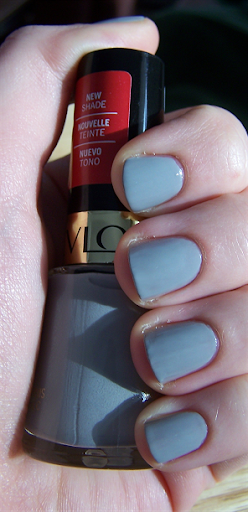 Silver
is a grey creme. It's actually my first grey polish and I'm pretty excited about that. I used two coats and it looked fine in real life, but the photos make it look riddled with bald spots.
Silver
is definitely a three-coater for photos.
The formula was pretty watery, but workable.
And then there was
Galaxy
. This top coat looked really nice in the bottle, and reviews I read about it while waiting impatiently for my husband to get home (
yeah, I do that
) said that it had blue and silver micro glitter and large hexagonal holographic glitter.
Galaxy
's collection-mate was a plain black polish, but I figured I could throw it on top of
Silver
and see how it looked.
These two just do not mesh, in my opinion. It looks like I shook pepper over wet polish.
Blue glitter? No. It's black. It's black and nothing about the weird peppery little dots
glitters
. I'm not sure why they're even there. I'll try
Galaxy
over a black polish and see if it does anything ~magical~, but over
Silver
it is definitely not anything special.