Last night I had a mild heart attack after my entire blog layout was lost. I took the opportunity to do a total overhaul, and I'm really pleased with how it turned out. I'd appreciate any feedback you guys might have on the new look.
And now for some polish!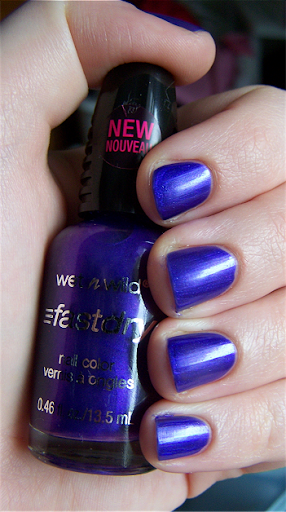 I have never had such a hard time getting a polish color to show up correctly in photographs. The above picture (natural light) of
Buffy the Violet Slayer
is
way
more blue than it actually is. I tried to take some photos using a full spectrum incandescent and got a little closer to the actual color, but not really close enough for my liking. The color on the nail in real life is the color you see in the bottle in the next two photos.
Buffy
is a really beautiful color, and it only took one coat for full opacity. This one actually did dry
very
quickly, unlike
the last polish
I reviewed from
Wet n Wild
's new Fast Dry line. It does dry a little gritty, so a good topcoat would definitely help it to look it's best. I didn't use a base or top coat for these photos.
I wish my camera would cooperate with this polish. I'm sure more reviews will be popping up for it all the time, and I'm hoping some of them will have more accurate photos so that you can all see how beautiful this shade actually is.